St. Ghislain, Belgium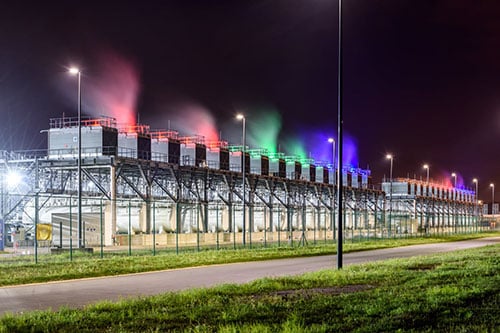 A view from the top
Google-colored lights illuminate steam rising from the data center cooling towers at night.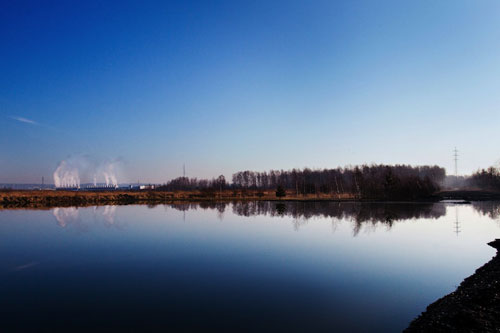 Cooling with canal water
Located in the Walloon region of Belgium, this data center uses recycled water from a nearby industrial canal to cool its servers, eliminating the need for refrigerated cooling and making it highly energy efficient.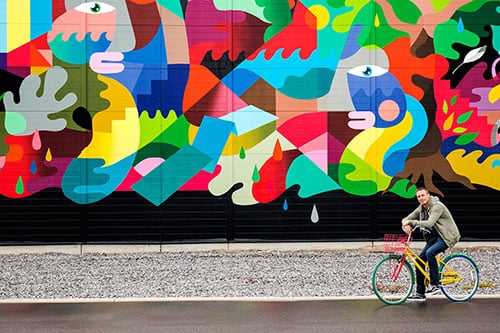 A taste of local street art
Belgium local street artist Oli-B took inspiration from "the cloud" for his colorful mural on the outside of our St. Ghislain data center. He's painted clouds that include elements specific to the region, the data center, and the people who run it — including the sheep that roam the data center grounds and a balloon from the annual festival, L'Ascension à Saint-Ghislain.
Google is proud to call Belgium home to one of our data centers.
In 2007, we announced that we would invest €250 million in building an energy-efficient data center near the towns of St. Ghislain and Mons, in Belgium.
The facility, which became fully operational in 2010, was the first Google Data Center worldwide to run entirely without refrigeration, using instead an advanced evaporative cooling system that draws grey water from a nearby industrial canal. This helps keep our computers running at their highest efficiency and reduces overall energy use.
In 2013, we announced an additional investment of €300 million to build a second phase of our energy-efficient data center and meet growing European and global demand for our services. This expansion was completed in 2015.
More recently, two exciting developments occurred in February 2018 with news of a €250 million data center expansion and the unveiling of a new solar plant on the data center site following a €3 million investment.
This brings Google's total data center investment in St. Ghislain to €1 billion.
Meet some of our employees or visit the St. Ghislain data center photo gallery. We appreciate being able to call the area home, and we're honored to be part of the local community.
Why did Google choose St. Ghislain?
St. Ghislain has the right combination of energy infrastructure and developable land. The local authorities also have a strong vision for how the internet can bring economic benefits and jobs to the area. The Digital Innovation Valley project has created a cluster of high-tech businesses and put technology at the heart of the education system. As a result, we had a great team of people supporting our investment in the area who were very helpful during the site selection process.