Speakers with
Chromecast built-in
Chromecast built-in speakers let you instantly stream your favorite music, radio, or podcasts from your mobile device to your speakers.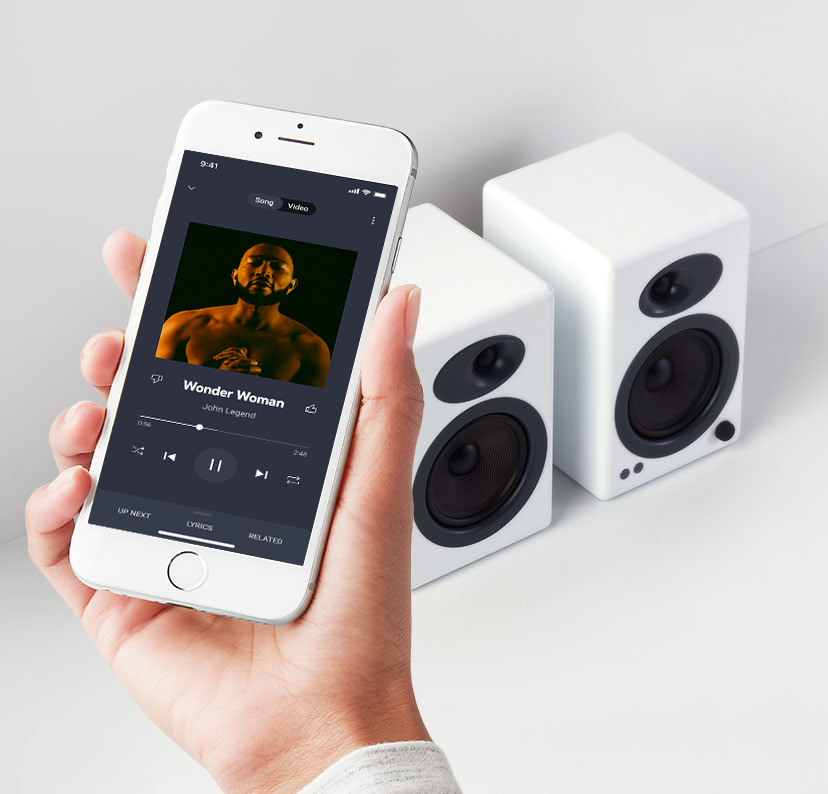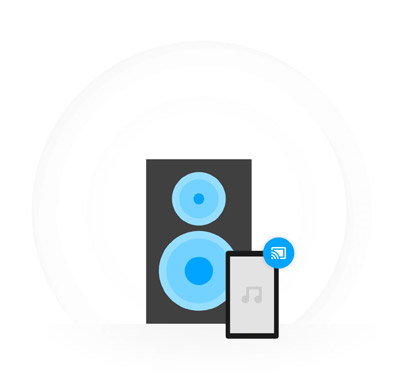 Easily stream music, without the hassle of pairing
Tap the Cast button from your favorite music apps to start streaming to your speakers. Adjust the volume or change the song, right from your phone.
Unlike Bluetooth setup, Chromecast built-in speakers work over WiFi so you can connect more than one device to your speakers at a time and control what's playing from anywhere in the house.
See how this compares to Bluetooth
Listen to your favorites, anytime
Choose from millions of songs from popular music services like Spotify, Google Play Music, and Pandora, or catch up on current events with NPR podcasts. We're constantly adding new apps so there's no end to the music, online radio stations, and podcasts you can enjoy.
Discover apps
High-quality sound, powered by the cloud

Chromecast built-in speakers stream directly from the cloud, so you get the highest sound quality. Enjoy crystal clear sound exactly the way the artists intended.

Enjoy your music

without interruption

Keep using your phone while you cast your music. Answer a phone call, play a game, or send a text all without interrupting what's playing on the speakers or draining your battery.

Blast the same

song in every room

Multi-room sync lets you play the same song across Multi-room compatible speakers in your house at the same time.

Anyone can
be the DJ

Friends and family can cast their music to your speakers using their own phone or tablet too - no additional setup required.

Mirror from your Android phone or laptop

Mirror exactly what's playing on your Android phone or tablet to your speakers. Or if you're on your laptop, you can also cast any music streaming website through the Chrome browser.
Streaming music with WiFi vs. Bluetooth
Feature
Wifi
Bluetooth

Highest sound quality

With WiFi, music streams from the cloud so the music sounds exactly the way the artist intended. With Bluetooth, audio is re-compressed, which can compromise sound quality.

Take a call without interrupting what's casting

With WiFi streaming, your music keeps playing without disruption, even if you get a phone call or a text. With Bluetooth, phone calls and notifications are heard over the speakers.

Control music from anywhere in the house

Chromecast built-in speakers stream music over WiFi, which means you can control the music from anywhere within your WiFi network. With Bluetooth, your phone needs to be near the speaker or the music will stop playing.

Play same music across multiple speakers

Select Chromecast built-in speakers can be grouped together to play the same song everywhere.

Doesn't drain phone battery

Casting music over WiFi doesn't drain your battery, while pairing from Bluetooth does.

Easily share music from multiple devices

With WiFi every mobile device on the network can connect and control your speakers. With Bluetooth, pairing devices can be tedious and requires disconnecting one device before another can connect.

Compatible with Android, iOS and laptops

Both options work with iOS, Android and laptops.